Namaste Monroe Review
So I ordered the new Monroe Bag and it arrived today. Have to say that so far it is EXACTLY what I wanted.
I have been carrying the Zuma, which is also a Namaste bag. However, the Zuma is a big pocket in the middle where everything sinks to the bottom. Plus the sides are a little more open than I like and it tends to be a floppy bag. I have always been scared I'd lose something out of it. But as a bag, I liked it. The other issue was that I had to have my project in a bag inside my Zuma or it got all tangled up with my purse crap.
The Monroe is a more structured bag. Very professional. A little bigger than the Zuma, but that is great because I can fit all my purse crap, plus my knitting, plus my iPod, Kindle and lunch in it and it will still close all the way. The color is a true lipstick red (blue based red, not orange based) and is beautiful.
This is the Monroe (red) behind the Zuma (black). It is a little bigger, but more structured.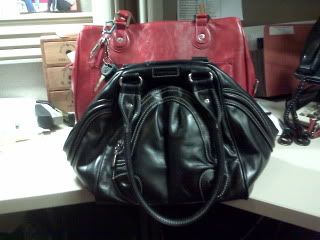 This is the Monroe next to the Zuma again for comparison.
This is the Monroe with a letter size legal pad against it.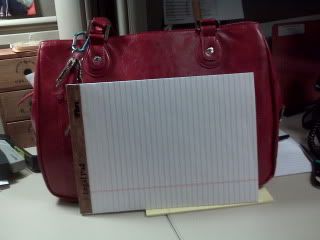 This bag has 3 main pockets inside:
The purse stuff pocket. This is where my random crap is like hand sanitizer, medicine, epipen, lipstick, iPod, hair tie, etc. The small zipper pocket on the side holds my bluetooth device and my iPod ear phones.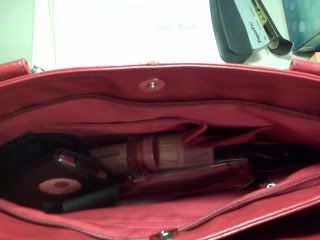 The middle pocket is the knitting pocket with my sock project (currently a pair of finished socks, two balls of leftover yarn, and the needles) plus my buddy case and my knitkit:
And finally there is the important stuff pocket. My wallet, pens, cash, blackberry in side pocket (not shown), smokes and lighter in side pocket, checkbook in zip pocket, and plenty of room for the kindle: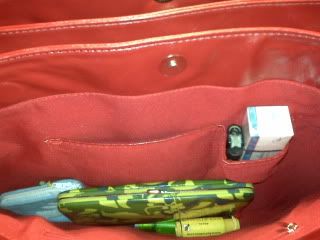 There is also a document pocket on the back that will be handy for stuff. Now I can carry my stuff to work all in one bag instead of a purse and a plastic bag of bills to pay and my lunch. As you can see, I have plenty of room left in this bag for more stuff!!
The front of the bag is very nice without the document pocket. And the little tab you see - that snaps around both straps to keep them on your shoulder better. Only thing I don't like is that it is not attached in any way to the straps, so it will be easy to lose if I am not careful.
These are top views, showing it closed and with the pockets open enough for the snaps not to engage with their magnets: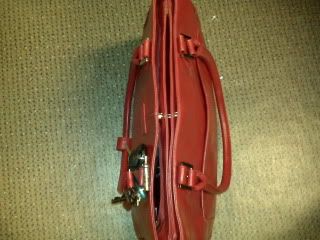 Finally, here are front and back of me (5'4" 135 pounds) holding both the Zuma and the Monroe: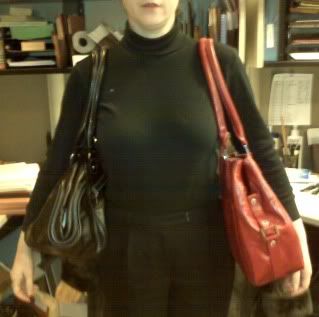 I hope that all the photos will help you make a decision if you were on the fence about the bags!